22 Sept – Sentinel
, a fuel retail solution developed by RONPOS was awarded PETRONAS Focused Recognition under the category of Innovate Now and Courage to Act.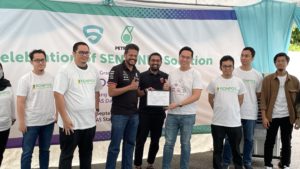 This recognition is based on RONPOS' commendable innovation through Sentinel that contributed to PETRONAS nationwide fuel stations operational efficiency.
Held at PETRONAS Station Putra Bistari, the award ceremony was honored with the presence of PETRONAS Dagangan Berhad (PDB) MD & CEO, Azrul Osman Rani, PDB COO Khalil Muri, and PDB CTO Koh Tat Chong.
With a main objective to make everyday life simpler and better, Sentinel is deployed at 1080 of  PETRONAS petrol stations and integrated with Setel app to solve station operational issues through its user centric features such as cloud based point of sale (POS), Portable Data Terminal, Inventory & Customer Relationship Management, OpenAPI, and more.
RONPOS as a leading retail-tech innovator serves future-proof technology that enhances customer experience at convenience stores and petrol stations. It also prioritizes cost-effective solutions for maximum business scalability.
With this recognition as a catalyst, RONPOS is always on the move in shaping business-stimulating fuel tech innovations all around the world.